JPGPR is a "no-kill" guinea pig shelter, meaning that piggies aren't euthanized just because no one is willing to adopt them. Since 1993, JPGPR has been taking in needy piggies and giving them love, care, and the attention they need and deserve. Piggies stay at JPGPR until they are adopted by loving (and stringently screened) families. If the new family doesn't work out for any reason, the piggies are always welcomed back to JPGPR. And for the little piggies who never get adopted, they can stay at JPGPR for as long as they live.
Of course, taking care of piggies ain't cheap! The JPGPR piggies need housing, food, hay, and medical care... and all that takes money. That's why we try to help out with donations when we can. One shelter supporter's favorite way to help the shelter is to make a donation when something good happens to him. For example, one time he was sad (and mad!) because he thought he had lost his keys and was going to have to spend a lot of money to replace them. When he found the keys the next day, he decided to donate the money he had already earmarked for key replacements and penalties. That way, everyone was happy... he had his keys back, and JPGPR got the money he had already written off anyway. And good karma, too!
If you would like to make a much-needed and appreciated donation to JPGPR, there are several ways to do it:
1. JPGPR guinea pigs are especially wild about delicious bluegrass hay from Kleenmama's Hay Loft. Proform Guinea Pig Food is also much appreciated. If you would like to order these items and have them shipped directly to JPGPR please contact Linda Clark-Lee at kleenmama@aol.com or 253-847-3896. If you'd rather donate money that JPGPR can use on future orders Linda can help you with that as well. Personal checks, money orders or Pay Pal are accepted. The Hay Loft also has lovely timothy and alfalfa hay available. Please visit www.kmshayloft.com for more information about this wonderful new supplier.
2. JPGPR gets many of its supplies from American Pet Diner (APD). APD has a special fund set up for JPGPR, which the shelter uses to pay for the stuff it buys. If you would like to donate this way, all you have to do is call APD and tell them you want to make a donation to "The Jack Pine Guinea Pig Rescue Fund," tell them how much you want to donate, and give them your credit card number. Your donation is then credited to the fund and ready for use the next time JPGPR does its shopping. This way to donate is quick and easy (it usually takes less than 10 minutes). This is also an especially good way to donate because the money goes farther than if you bought specific items... JPGPR can combine your donation with others to buy in larger quantities and save on both the economy-sized items and on the shipping in bulk orders. If you want to donate this way, all you have to do is call APD at 1-800-656-2691 (toll-free) (8 a.m. - 5 p.m. PST). If you want more information on APD and its many great products, just visit their website at www.americanpetdiner.com.
3. JPGPR also buys some its supplies from the Oxbow Hay Company. Oxbow now has an option allowing you to buy a gift certificate for JPGPR. Or, if you prefer, you can also buy specific items for the shelter from Oxbow and have them shipped directly to the shelter at the following address: Jack Pine Guinea Pig Rescue, 26515 Apollo Street NE, Stacy, Minnesota 55079. The piggies especially like the following items from Oxbow: Cavy Cuisine and Cavy Performance pellets and timothy and orchard grass hay. To order from Oxbow Hay Company, just go to their website at www.oxbowhay.com.
4. And finally, of course, you can always send donations directly to the shelter, which is especially good for smaller donations. Just send a check or money order to Jack Pine Guinea Pig Rescue, 26515 Apollo Street NE, Stacy, Minnesota 55079.
If you have any questions, you can contact the shelter at JPGPR@aol.com.
We hope that you will consider making a donation to JPGPR. Some piggies have been abused, neglected, and unloved, and JPGPR gives them a second chance at happiness.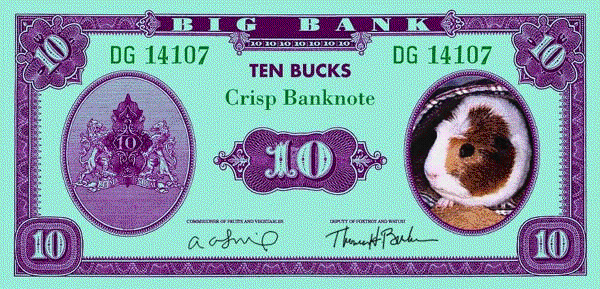 ---

I has been my extreme privilege to meet many wonderful people who love animals and act upon their concern for animal welfare. Making the world a better place for animals can take many forms. Not everybody can fill their home (and almost every waking minute) with cast off unwanted animals. Animal lovers find a variety of ways to help. Some provide temporary foster homes for animals that need special care. Others spread the word about animal rescue by referrals, pamphlets or posters. Some people tirelessly write letters trying to change policies or conditions to improve animal's lives or ease their suffering. Many folks show their concern about pet overpopulation by adopting from shelters and shopping at pet stores that do not indiscriminately sell live animals. Some bold souls actively teach pet responsibility and care with handouts, talks, information booths, etc. Then there is the guardian angels that help by donating money and supplies, or offering their own time and assistance, to shelters that constantly run short of such things. The possibilities and opportunities to help animals are endless and the need is always there. The following poem is dedicated to all our friends and fellow animal lovers, with a special thank you for personal kindness and generosity shown to my shelter and cavies. YOU help keep us going!

I AM THE VOICE
(part Voice of the Voiceless, written by Ella Wheeler Wilcox)

I am the voice of the voiceless;
Through me the dumb shall speak,
Till the deaf world's ear be made to hear,
The wrongs of the wordless weak.

From street, from cage and from kennel,
From stable and zoo, the wail
Of my tortured kin proclaims the sin
Of the mighty against the frail.

Oh shame on the mothers of mortals,
Who have not stooped to teach
O f the sorrow that lies in dear, dumb eyes,
The sorrow that has not speech.

And I am my brother's keeper,
And I will fight his fight;
And speak the word for beast and bird,
Till the world shall set things right.
---
We especially thank the following for their encouragement, referrals, assistance, donations and other acts of kindness over the last few months. YOU help keep us going! This year I will be gradually replacing many of the shabbier cages here with roomy "luxury suites". Much of the money donated in 2004 will be used to purchase pans and materials to build new cages for the guinea pigs.
Sandy Anderson
West Group Employees
(special thanks to Chris Schoenberger and Dianne Neidermeir)
Dr. Lori Pfeifer and staff at Elm Creek Animal Hospital/Champlin, MN
Sybil Bohnett
Karen Moore
Susan and Kent Brunnell
Allianz Life Insurance Company
Traci Johnson
Shawn Tromiczak
Isanti County Humane Society
Lois Novacek
Magi Henning
Christina Perry
Kara Khan
Dr. Mary Olson and staff at East Central Veterinarian/Cambridge, MN
Sally Morton
Allysse Henry
Paula Griffin
Erin Moore
Northwoods Humane Society
Sue Simons
Colleen Niebuhr
Ann Wen
Leann Ticknor
GuineaLynx for Cavy Health Record Books (www.guinealynx.info)
Lisa Moline
Charles Rawn - Carver/Scott Humane Society
Animal Humane Society - Golden Valley, MN
Kelly Rogers
Barbara Foster
Marcia Quist
Dr. Grant Gugisberg, Carver Lake Veterinary Center (in memory of Nermal)
Aiden Schermerhorn (in honor of Angel, adopted through Allysse Henry)
Dawn Lange
Nancy Cooper
Heidi Greger
Mary Britton Clouse
AND
All of the kind people who decided to share their homes with our guinea pigs! (To see a list of people who have recently adopted from us, click here!)
Special appreciation to:
Lea Martin - The Jack Pine Guinea Pig Rescue (JPGPR) logo was designed and donated by Minnesota artist Lea Martin. Lea has great talent for drawing animals, both pets and wildlife - and can even do custom drawings of your favorite pet from photos. A growing choice of Lea's SuzieQ designs and items can be ordered directly from her web site at SuzieQ's Gifts. Proceeds (or as Lea calls it, "moola") from sales of JPGPR design items are generously donated to the shelter to help cover daily care and veterinary expenses of the rescued guinea pigs here. To see some of Lea's JPGPR designs, click here! Lea is truly one of JPGPR's guardian angels.
Richard Robinson - without Richard there would be no JPGPR web site. This web site was Richard's idea. He set it up, covers the cost of keeping it open, makes everything look good and work smoothly. When I send Richard written material for the web site (not nearly as often as I should!), I can't wait to see his finished product. It always looks much more interesting once he's done jazzing it up and adding pictures. Richard is a great friend, and I am very grateful for all the time and talent he shares with the shelter.
Dwayne Rawlings - Dwayne was one of my shelter's first supporters. We were corresponding by snail mail and faxes long before I got my first computer - which Dwayne donated. He was a constant source of kind words and encouragement, as well as donations he could barely afford. I am still inspired by Dwayne's hard fought crusades to improve the lives of animals he cared so much about - despite his own failing health. Dwayne became a treasured friend, one that I miss deeply since he left this world on January 10, 2001 to become Head Greeter and Comforter at the Rainbow Bridge. (To see a special memorial to Dwayne, please click here.)
Wally Nielsen - my generous, ever patient husband. Wally is tolerant of the guinea pigs, but really wouldn't mind seeing them all leave the house. In fact, Wally has been know to offer people "six pigs for the price of one" when they come out to adopt. Despite his lack of genuine fondness for the pigs, Wally continues to pay most of the enormous cost of keeping the rescues, and even accompanies me on long or scary (eek - city driving!) rides to pick up unwanted pigs.
Please forgive me if I have missed anybody. My records continue to be such a mess. I am working on it, and hope to update this list regularly.
Cavy Kisses to All Our Contributors!
---

OFTEN REMEMBERED, FOREVER IN MY HEART

Donations in memory of ...
Xuxa - euthanized after a month long battle with cancer, deeply missed by Jennifer Stohl
Hadji - this sweet pig will always hold a special place in Joann Sequeira's heart
Olga - cherished and much missed by owner Betsy and Auntie Gina Morrow
Mollywog - a lovely gentle pig whose life ended much too soon, honored by Teresa Nelson
Aspen & Pigpen - lovingly remembered by Kim Shinnick as two of the most beautiful and gentle souls she's had the honor of knowing
Fiona - cherished and constant companion of Susan Firestone, deeply missed
Mini and Willie - two fragile souls lovingly cared for and treasured by JoAnn Sequeira
Nibbles - "He was such a silly little character" that delighted Colleen Niebuhr and brightened her days
Sabrina - a very special little sow, loved and missed by Angela and Josh Brassow
Drawing of Sabrina done by her young owner, Josh
Nermal - a very special guinea pig much loved and sadly missed by Kelly and Brian Giesler
Ollie - "He was such a wonderfully special pig, one who truly liked people. I'll miss his beautiful piggie lips and huge pea-eyed face" - deeply loved and missed by Linda Clark-Lee
Lovely Farina - a sweet little sow much missed by owner Todd and the rest of her family
In memory of sweet wooly-bear Teddy, companion of Majandra since their early days and dad of Seamus; missed by Jill and Jill's parents - Mariana Kopzca